At Princeville Presbyterian Church we are led by a "Session," which consists of 4 Ruling Elders and 1 Teaching Elder. Our leadership recognizes the authority of God, and realizes that we are shepherds who serve under the Chief Shepherd, Jesus Christ. We desire to devote ourselves to prayer and to the ministry of the Word. Our passion and goal is to equip the believers for the work of the ministry until we all attain maturity in the fullness of Christ.
Pastor,Chris Carpenter
Holly Litwiller, Youth and Children's Ministry Coordinator
As the coordinator for Youth and Children's Ministries at Princeville Presbyterian, Holly oversees our Sunday school program, Children's Church, and our youth activities. Her vision for ministry is to see young people come to know Christ personally as their Lord and Savior and apply God's Word to their own lives, while continuing to grow in love and faith. For questions concerning our programs for children or information about available classes please contact Holly at the link below.
Contact: Holly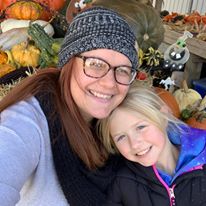 Tanya Drummond, Administrative Secretary
Tanya took over for Amanda in April, 2019. She has been a member of this church since 2012. She is involved with AWANA, Women of the Word, A leader of The Fellowship club and Food Pantry. She has lived in Princeville since 2004 and has one daughter named, Kiera (8). Her office hours are Tuesday – Thursday 8-1. If need anything please reach out to her and she will help you the best she can!
Contact: Tanya